If you are planning a preschool lesson for St. Patrick's day we have some fantastic free and low-cost resources to share with you! We've got a ton of St. Patrick's Day Preschool Printables featuring everything from St. Patrick's Day coloring pages, crafts, worksheets, games, activities, fine motor skill sets, learning center mats, science experiments and more! You can bundle these fun activities together to create your own preschool lesson plan!
St. Patrick's Day Preschool Printables
These coloring pages feature color words for the rainbow. Children practice handwriting and word recognition with these coloring activity pages.
A cute set of St. Patrick's Day mazes and coloring pages for kids. Each page features easy to solve mazes for young children as well as some cute thematic character to color in.
St. Patrick's Day Crafts for Preschoolers
This is a set of weather-related tracing worksheets you can use for a weather unit. The rainbow worksheet would be great to pair with your St. Patrick's Day Preschool lessons.
Students work on their fine motor skills by cutting and pasting the hearts to assemble into a four-leaf clover. Turn this into a fun fingerprinting craft by printing on cardstock and having students paint the leaves with green fingerpaint.
This is a free printable four-leaf clover mat you can use to build spatial reasoning skills. Students use pattern blocks to plan and complete their build. Laminate for durability. Check out our Pattern Block Bundle for more!.
This fun shamrock scissor skills worksheet is part of our March Fine Motor Activity Pack! We've paired this activity with 60 pages of fun, interactive fine motor activity pages for St. Patricks Day and Spring themes for March.
This activity pack includes a variety of math printables, games, and activities. Math activities include counting, sorting, framing, adding, graphing, and pattern making. Click Here
This Geoboard Activity Pack includes a variety of thematic activities and worksheets for St. Patrick's Day and other holidays, seasons and more! With simple, differentiated learning opportunities, our Geoboard Activity pack will soon become one of your favorite spring resources.
Students work on shape identification with this free worksheet filled with 12 different shapes; triangle, circle, heart, square, star, trapezoid, octagon, oval, hexagon, rhombus, diamond, and rectangle.
St. Patricks Day Preschool Games
This is a simple yet fun game for children learning their number bonds. Children work on number bonds to make 5 and number bonds to make 10. Use with the coins provided or laminate and use a dry erase marker.
This is a set of eight different pattern cards with different sequences (AABB, ABC, ABAB etc..) Children use gold coins (print on yellow paper) to make the patterns.
Fine Motor Activities for St. Patrick's Day
60 thematic, hands-on activities to build fine motor control skills in March! These thematic activity pages are perfect for your March learning centers. Great for early finishers, take-home resources, or as a tutoring binder you can bring on the go!

St. Patrick's Day Activities for Preschoolers
What could be luckier than this sparking green St. Patricks Day Homemade Playdough Recipe. Easy to make, just a handful of kitchen ingredients and a pinch of glitter from the craft box and you have a wonderful seasonal activity for the kids to enjoy for St. Patrick's Day.
St. Patrick's Day Mazes
Looking for some challenging St. Patrick's Day activities for your preschoolers? Try these free St. Patrick's Day Mazes and activity pages to build logic and reasoning skills. Each maze features a fun follow up activity, such as writing the colors of the rainbow, or counting the coins.
St. Patrick's Day Bible Printables
We've got a ton of free Bible printables for St. Patrick's Day on our sister site. You'll find crafts, games, worksheets, bookmarks Bible verse cards, take-home sheets and more. These St. Patrick's Day Bible Crafts help your students learn key Bible truths about the trinity and heavenly treasures.
St. Patrick's Day Math Activity Pack
This math activity pack is filled with hands-on learning opportunities for preschool students. Simply pick up a box of Lucky Charms (TM) and print this set for instant math learning centers, games, worksheets and more!
St. Patrick's Day Science Experiments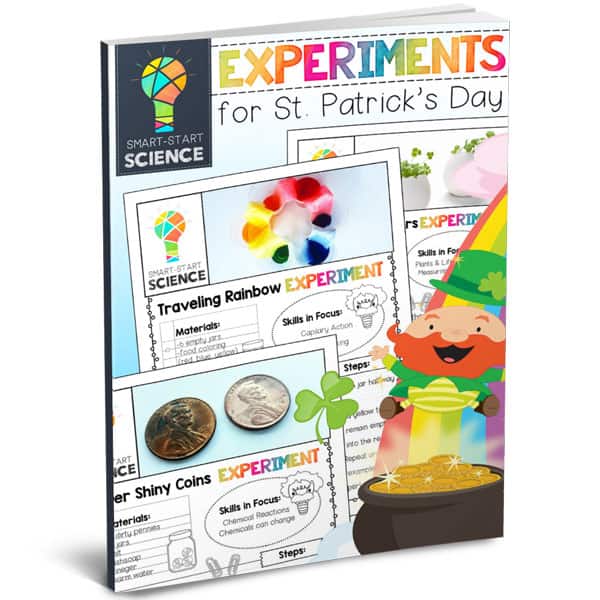 Smart Start Science is a new and engaging series of Low-Prep, Hands-On experiments and activities designed for K-2 students. This specific pack, "Experiments for St. Patrick's Day" includes five complete experiments and follow up activities that are sure to add a little color to your classroom.
St. Patrick's Day Books for Preschoolers
St. Patrick's Day is March 17th and it's a great time to get a little festive in your preschool classroom. Using this theme as inspiration, you can add in some "lucky" fun with shamrocks, horseshoes, and maybe even a sneaky leprechaun. Be sure to read children the true meaning of St. Patrick's Day, as it's important for children to know why we celebrate holidays.