This page is filled with resources you can use with children for Mother's Day!  You'll find printables Mother's day cards, handprint crafts, flower cut and paste activities and more.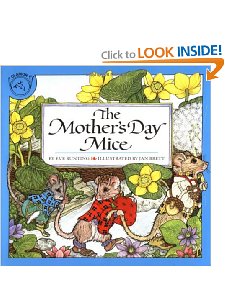 The Mother's Day Mice  It's Mother's Day and the three mouse brothers, Biggest, Middle, and Little, have only a short time to get their presents.
My Mom Is.....Personalized Keepsake
This is a fill in the blank coloring page children can design for Mom. Children answer the questions: My Mom is….. I love when my Mom….. Mom makes the best….. A Picture of my Mom….. Print these at two to a sheet for children to cut out and place inside your own Mother's Day card creations.
Custom Mother's Day Card
A cute Mother's Day card for fill out for Mom. Help children fill in the blanks with their favorite things about Mom, then have them color Mom! Handprints on the outside of the card make a nice touch!
Happy Mother's Day Flower
Use these printables for children to make Mom a special flower for Mother's Day. Each child needs a stem, a circle, and construction paper petals. With a dab of glue show them how to arrange their petals around the stem, then cover the middle with their circle.
Mother's Day Handprint Craft
This is a easy tracer page that reads, "Happy Mother's Day." There is space at the top for children to draw a picture or add a handprint
Mother's Day Bible Crafts
We've got some great bible theme Mother's Day crafts, activitis and resources on our sister site ChristianPreschoolPrintables.com