This is a butterfly printable your preschool is going to love! Best of all, we've designed a handful of fun, enriching, and educational activities you can use alongside them in your preschool homeschool. Before you get started, you might want to add this handy resource to your classroom.
Homeschool Teaching Supplies
This EK Circle Punch is one of my favorite teaching supplies because it takes my prep work time down to a few minutes instead of an hour or two.
I flip mine upside down to punch because it has a window view to see what I'm doing. It's no fun to blindly punch circles when you are trying to be accurate. This punch is 1.5″ and it is the same size I use for all of the Free Circle Punch Games on File Folder Fun.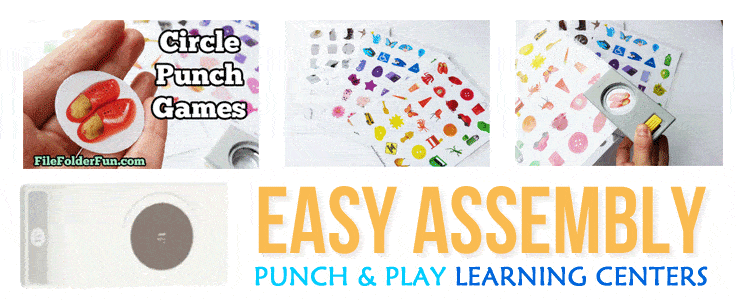 Maybe it's just me, but I loathe all of the cutting and prep-work involved with teaching preschool. I love all the hands-on games and activities, but the cutting…..I can't spend another minute cutting anything. That is why I also love my Guillotine Paper Trimmer, it literally cuts straight lines through stacks of pages and my prep is done in no-time.
Using the circle punch makes quick work of all these adorable butterfly counters. PRO TIP: Printing on cardstock helps with durability. I usually stack my pages, punch a row, then cut off the excess. This will get it out of your way so that you can continue to punch the next row. I work from top to bottom so that if my stack of pages gets out of order, I can easily line them on my straight edge at the base. That may seem a bit neurotic, but this method has saved me the hassle of misaligned pages, improper punching and the dreaded walk of shame back to the computer to print another sheet. Who has time for all that?
Butterfly Games & Activities
Once you have all your butterflies punched out it's time for the fun to begin!
Obviously, it's fun in itself just having a huge pile of colorful butterflies to play and explore with. You can use this set like you would any set of counters, here are some ideas to get you started:
Make Picture Shapes:
First, encourage your student to experience these counters with some gently lead free play. Students might realize they can sort the colors or even make pictures with the butterflies. You might sugget making an actual rainbow, or even a rainbow-butterfly-butterfly, because that is just the coolest thing ever:
Patterns & Sequencing:
Because you have a variety of colors in this set, you can easily use them to teach your preschool students about patterns and sequencing. Start with ABAB patterns (red, blue, red, blue) and work your way through ABCABC patterns (purple, orange, green, purple, orange, green). You might even try starting a pattern and asking your student to complete the pattern.
Printable Butterfly Games:
One of the very first games children can learn to play is called "SLAP!" This is a fun 2-player game in which both players take reveal their next card at the same time. If the cards are the same then the first one to SLAP the pile wins all the cards in the pile. If the cards are not the same, both players continue to reveal one card at a time until there is a match. You can adapt this as a 1-player game by revealing all the cards in a row and slapping when there are two in a row the same.
Butterfly Color Sorting Mat:
As part of this set we're including a free pritnable butterful color sorting mat. Students sort the butterflies into rows that match the flowers below. You can expand this activity by only providing students with a portion of the counters so their results will be different each time. Have them count up their results and report the color with the most or the fewest butterflies. Students who are learning to add can be asked questions like, "How many red and blue butterflies are there?"
The possiblities for these butterfly printables are endless, here are some more quick ideas to inspire you:
Hands on Addition & Subtraction: Use the butterflies as counters to make visual representations of simple math problems. "If Sally has 3 red butterflies and Max gives here four blue butterflies, how many butterflies does she have in all?" This is a great tool for visual and kinestic learners.
Roll & Grab Game: Assign a color to a number on the dice then roll and collect. First one to make a rainbow wins!
Butterfly printables like these are very versatile and they don't take up much room. I keep mine in a small plastic bag near our homeschool table.
If you are looking for more hands-on butterfly fun, be sure to check out our monthly Fine Motor packs. They are filled with hands-on activities,