Game Play: Choose a cloud and read the letter.  Find the rainbow with the uppercase letter to match.
Game Assembly:  This game requires two file folder game glued back to back.  You'll need to cut the tabs off of both ends so that the game board folds correctly. Mount the rainbows to the file folder and cut out the clouds for playing pieces.  Glue title page to outside so that you form a pocket.  Glue Tab Label to folder.
Expansion Ideas: You could just as easily cut out the rainbows to make flash cards and then have children point the corresponding lowercase letter  on their cloud boards.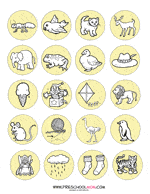 Skill Building Links: