Learning to read should be an adventure for kids. It's so important to foster a love of reading even before they start formal schoolwork. That's why you should focus on teaching reading BEFORE writing. There are so many ways you can teach your students to read, all without needing them to pick up a pencil for writing.
Reading Before Writing
How are you going to teach reading before writing? Try these fun methods and tips to expose kids to reading without writing, and watch your children's skills grow before your eyes!
Letter Tiles
Letter tiles are a great way for kids to practice reading without writing. Have students use letter tiles to create a short CVC word such as cat. Then, the kids can change the beginning, middle, or end sound to create new words.  Your students will have a blast changing words and sounding out the new ones.  Here is a great set of Letter Tiles.
Letter Stamps
Kids love stamps, making it a great tool for you to use to teach reading before writing. Students can stamp different words on a paper, changing the ink color to create a colorful page. You can even have them practice reading their names using letter stamps, all without having to pick up a pencil.   Find our Favorite Letter Stamps Here. 
Read Aloud
One of the biggest tools at your disposal is your own voice. In order for kids to become good readers, they should be read to frequently. A read-aloud is a way for you to model good reading behaviors. You will show your students to read fluently, pausing in the appropriate spots and using your voice to show emotion. If you are short on time for read alouds, consider a subscription to Audible or Epic.
Sand Tray
Tactile learning is important for kids, so use this style to teach your students reading. Fill a tray with sand and have students trace different letters and words in it. Kids will love writing in the sand and you'll love the reading practice they get!  Hint: You can make your own sand tray with a cardboard box or you can purchase a Sand Tray specifically designed for writing.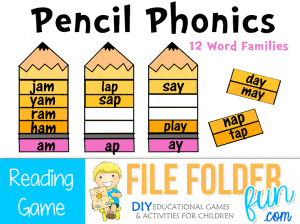 Word Families Games
In order to teach your students reading before writing, you should help them learn word families. Show them how word families include words that have the same ending. You simply change the first letter to create a new word, such as cat > hat > bat. Play games to teach these families. Students will feel confident in their reading as they catch on to how word families work.  Find Free Word Family Games Here.
Teaching kids to read can be a lot of fun with the right tools and activities. Students don't need to know how to write in order to learn how to read. What kind of activities do you use to teach reading before writing?
Click here for a 20-page printable Making Words pack for children to practice their reading and writing skills!